In the heart of Bristol's old city, you'll find the Mercure Bristol Grand Hotel. It's just a stone's throw from Corn Street, where Bristol's merchants would gather to make their deals and pay 'on the nail'. The hotel is attractively Victorian, built of honey coloured stone, with wrought iron and stained glass at the entrance. I'd previously visited The Grand for a work Christmas party, but the slightly tired decor I remembered has now been updated with the hotel's recent refurbishment. The new design cleverly combines references to the hotel's Victorian heritage, with fresh style and a bit of street art thrown into the mix. Here are my impressions based on an overnight stay for the hotel's opening event;
Check prices and book for Mercure Bristol Grand Hotel on Booking.com
Checking out our Bedroom
Our large bedroom was painted in a matt dark green, harking back to the hotel's Victorian heritage, with furnishings that mixed the modern and the fashionably retro. The metal lamps had an old fashioned twisted flex that one remembers from granny's sitting room, with modern bedside tables and a wooden and leather headboard. The button back comfy chair beside the bed had been upholstered in a funky print that zinged with colour. The formula here seems to be the juxtaposition of old and new; taking an old fashioned style of chair and covering it with a modern print.
The original sash windows had secondary double glazing to keep the inevitable noise of the city at bay, with nets to obscure the view of the apartment building at the back. The full length dark green curtains had a light resistant backing to ensure a good night's sleep.
The hotel has worked with the Upfest Street Art festival in Bristol, to incorporate prints by local urban artists like Copyright. Above the bed a King Kong gorilla was striding towards the Clifton Suspension bridge, next to a print of Copyright's woman in a Venetian masquerade mask.
The small wardrobe by the door had a metal mesh door and just three coathangers, although I'm sure you could ask for more. Inside we found all the conveniences you'd expect from a hotel that welcomes a lot of business guests; an iron and ironing board, safe, hairdryer, slippers, bathrobe, a Nespresso machine and kettle to make tea. The bed was large and comfortable although on the firm side – personally I like mine to be a little softer to waft me into a cosy, cushioned sleep – having said which we both slept very well.
Check prices for hotels in Bristol on Booking.com
Freshening up in the Bathroom
I loved the bathroom with those 50s style rectangular tiles that seem so fashionable at the moment. The geometric patterned tiled floor was very much what you'd find in a Victorian hallway, teamed with modern sink and loo, sparkling chrome and a tile border of dark green. A powerful rainforest shower was pleasingly easy to use – I've often struggled in other hotels where you seem to need an instruction manual to know which lever to turn. It was a pleasure to use the spacious walk-in shower with a glass screen and plenty of individual Mercure brand toiletries; shower gel, shampoo, body lotion and soap.
Check prices and book for Mercure Bristol Grand Hotel on Booking.com
What you'll find in reception
The reception area incorporates elegant pastel shades with a nod to the 1950s, wing chairs upholstered in soft green, a pale rose velvet sofa, and a mismatch of easy chairs. I loved the unique touches like the naturally polished wooden coffee table showing off the grain and bark of the tree trunk, and the attractive modern rug. The receptionists now wait to greet you at an informal wooden table as if you were entering a friend's sitting room, and checkin is done on small laptops.
Check prices for hotels in Bristol on Booking.com
Occasional tables at different heights were scattered around the reception area, with a black and white tiled floor at the entrance. The floor to ceiling windows along the front of the hotel let in lots of light and despite its central location the road outside is relatively traffic free, leading only to the archway in the old city wall.
Check prices and book for Mercure Bristol Grand Hotel on Booking.com
Local Art in collaboration with Upfest
The hotel has worked with Upfest Urban Art festival to find local artists to bring Bristol's cool street art vibe into the hotel. From a hoarding on the wall of reception there are eyes watching you, a mural from Gemma Compton who is inspired by nature and painted porcelein and was the Upfest featured artist at last year's festival. On the ramp beside the lifts are intricate patterns of circles looking as if they were created by one of those spirographs but actually painstakingly painted by hand by illustrator Cai Burton.
Along the corridors and in the bedrooms are a mixture of colourful prints by local artists, photos of street art around Bristol and pictures from Bristol's past. Finely dressed Georgian ladies dance among photos of street art murals, a print from Queen Victoria's Diamond Jubilee next to the murals on the side of a Bristol climbing centre. From sepia photos of  Bristol's cobbled streets we move to a photo of a Leon Keer mural painted flat in the middle of the road, which from a certain angle becomes a 3D child playing in the street. All the pictures are different and as a Bristolian I could have spent hours looking at them all, trying to work out where each of the photos, both old and new, were located.
Check prices for hotels in Bristol on Booking.com
Time for dinner in the Keeper's restaurant
I loved the decor of the new Keeper's restaurant which aims to not only be a comfortable place for hotel guests but to attract locals who work nearby for an after-work drink or bite to eat. There's a cosy, welcoming atmosphere, with shabby chic decor and vintage pieces like an old metal trunk as a coffee table, brass candlesticks and a vintage typewriter. The floor is dark wood parquet mixed with more of those patterned Victorian tiles and squashy leather sofas and chairs in the bar area, with knitted woollen throws.
Check prices and book for Mercure Bristol Grand Hotel on Booking.com
Moving further into the restaurant there are soft olive leather banquettes, vintage style metal chairs and the imposing Victorian pillars that they uncovered during the renovations. The restaurant name comes from the bee-keeper theme, with hives being installed on the rooftop and honey flavoured cocktails on the menu. A honey-comb shaped metal decoration hanging on the wall might have come from a Victorian greenhouse, although on closer inspection the plants hanging from it turn out to be plastic.
We tried a range of sharing plates during our stay and also at a blogger event that I attended the previous week. I enjoyed the Antipasti Board, with a colourful selection of roasted peppers, courgettes, artichoke, feta cheese, hummus and olives, that took me back to sunny holidays in the Mediterranean. The meat dishes I tried on both occasions were good, from the meltingly tender pigs cheek cooked in cider to the sample of rib eye steak dripping with a tasty bearnaise sauce. The Chef's choice pizza was also delicious with goat's cheese, roast veg and  a drizzle of Keeper's honey as well as a pile of green rocket leaves on top. For lunchtime I'd probably be ordering the tuna salad – a salad nicoise with slices of seared tuna steak on the top showing pink inside or the tasty vegetarian mushroom pappardelle with courgette, walnut, tarragon and stilton.
The fried fish dishes were less successful, tasting a bit greasy, but it probably didn't help that they were part of a sharing plate which was designed to let us taste as many dishes as possible. I did love the deserts though – again we had a few small bites to sample and my favourite was the Keeper's posset flavoured with raspberry and honey, served on a shortbread biscuit. The cocktails were fun too – I tried the Keeper's cocktail served in a copper mug, decorated with berries.
The service in the Keeper's restaurant was welcoming and friendly, the staff enthusiastic and clearly pleased to be working in their brand spanking new restaurant and hotel. It did feel as if there might be a few teething issues as the new team settle in – some forgetful moments when things requested never arrived, items left off the table and food that sometimes took an age to come out of the kitchen. Perhaps once the kitchen and waiting team have settled in these minor issues will be ironed out.
After our overnight stay we tried the breakfast buffet which was fine, but not terribly exciting. There was coffee from a machine, a selection of cereals, yoghurts, bread and pastries, a toaster so you could make your own, a cooked selection of bacon, eggs, sausages, beans in silver containers. I'd have liked to see a bit more variety to give a more luxurious feel, some local cheeses, granola rather than just cornflakes, fruit yoghurts rather than just plain. The choices at breakfast seemed rather limited and lacking in the variety I'd expect from this level of hotel.
Overall I'd recommend the Keeper's restaurant for the range of tasty dishes, probably not for the gourmet eater but great for a place to meet friends for a bite to eat or a cocktail after work. If I was staying in the hotel I'd be very happy to eat there, the place definitely has more soul than the average hotel cafe.
Have you stayed at The Grand recently or eaten in the Keeper's restaurant? – if so do let me know what you thought in the comments.
Who is the hotel best for?
The Mercure Bristol Grand Hotel is a great mid-range choice for business and leisure travellers visiting Bristol. The location could not be better in the heart of the city, the new decor is stylish and now bang up to date, the staff welcoming. It's an ideal choice for couples, groups of friends or colleagues and families with older children.
Facilities – always good to know
There's a car park next to the hotel which is free for hotel residents. There's a swimming pool, fitness centre and spa facilities although we didn't try them. There are 182 rooms and free wifi throughout the hotel. The hotel has a number of different sized meeting and conference rooms, including a ballroom for up to 300 people. In our room we found an iron and ironing board, tea and coffee making, a safe, slippers and bathrobes.
Address and website
Mercure Bristol Grand Hotel Website – Address: Broad Street, Bristol, BS1 2EL  Tel : (+44)8713769042 Email:[email protected]
Check prices and book for Mercure Bristol Grand Hotel on Booking.com
More things to see in Bristol:
25 things to see in Bristol with your friends
10 cool things to see on Bristol's harbourside
20 Free things to do in Bristol
Check out the Visit Bristol website
Thanks to Mercure Bristol Grand Hotel who hosted my 1 night stay. Some of the links in this article are affiliate links which provide a small commission to support this blog.
Pin It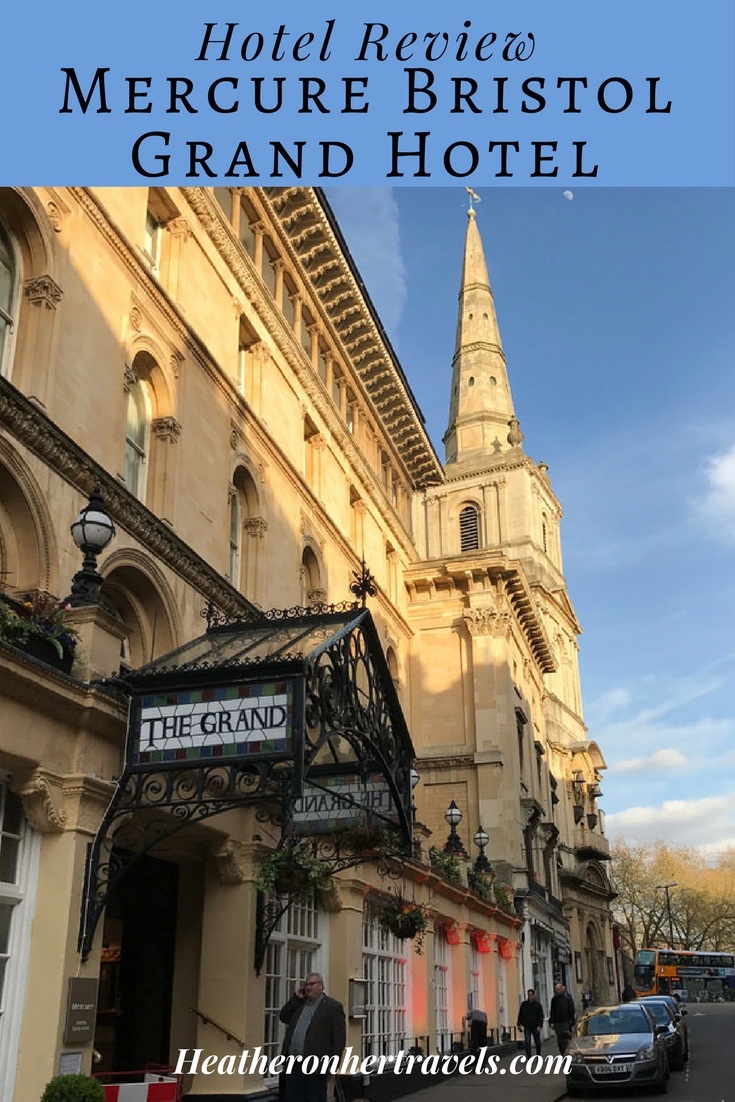 This article is originally published at Heatheronhertravels.com – Read the original article here
Click to subscribe to our monthly newsletter, news and reader offers